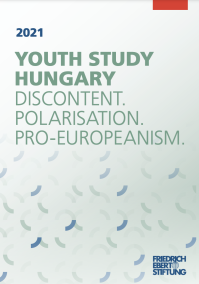 "Youth Study Hungary 2021 - Discontent, Polarisation, Pro-Europeanism", the new book by András Bíró-Nagy and Andrea Szabó on Hungarian youth has been published.
Abstract
The Youth Study Hungary 2021 came about as part of a large-scale international youth research project. The study was conducted during the spring and summer of 2021 in seven countries (the Visegrád four and Baltic States) simultaneously, with the support of the Friedrich-Ebert-Stiftung. Our aim was to explore the values, opinions and preferences of those in the 15–29 age group, using the same methodology and questions. When analysing the results of the Youth Study Hungary 2021, we specifically sought to take advantage of the exceptional opportunities for regional comparability: we analysed the Hungarian data in the context of the other Visegrád countries. Our goal was also, wherever possible, to interpret the situation in 2021 in light of Hungarian youth research results from previous decades. All in all, our research not only allows us to drill deep into the thinking of young Hungarians (be it regarding education, employment, emigration, starting a family or public life), yet it also helps the reader to place Hungarian processes within regional trends, thus making it clearer than ever where young Hungarians are unique, and where they share commonalities with their regional peers.
"Youth Study Hungary 2021 – Discontent, Polarisation, Pro-Europeanism" can be downloaded from the following link: http://library.fes.de/pdf-files/id/19115-20220419.pdf
Publisher: Friedrich-Ebert-Stiftung, Bonn, Germany.