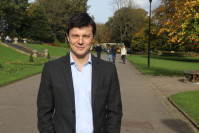 Our next guest of speaker series of Institute for Political Science is Edward Hall (University of Sheffield) with the presentation entitled:
Political compromise and dirty hands
The putative relationship between political compromise and the problem of dirty hands is often commented on in the literature in political ethics but rarely explained. In this paper, I offer an original account of why compromising in politics is likely to involve the kind of politically necessary but morally problematic behaviour at the heart of the dirty hands thesis. On the view I defend, compromising politicians do not dirty their hands simply because they choose to compromise on matters of principle, and therefore play some causal role in bringing about a state of affairs that is deficient with respect to their favoured moral and political outcomes. Rather, I contend that when forging a political compromise in adversarial political systems, negotiators can either comply with the requirements of ethical compromise-making or abide by the special obligations they have to their representees, but they cannot do both simultaneously. As a result, subsequent to such compromises, reasonable resentments about how a political compromise was negotiated will almost inevitably emerge and compromise-makers will not be able to explain or justify their conduct in a way that can cancel these grievances. This explains why political compromises can be classed as dirty, even if choosing to compromise on a particular issue is, all things considered, the politically responsible thing to do.
The event is streamed via Zoom. A link to the event will be sent to registered participants in a separate email.
Please indicate your intention to participate by completing the following form by 15 June: