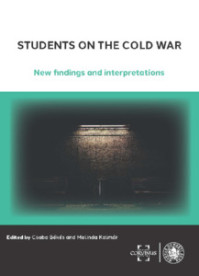 Megjelent Békés Csaba és Kalmár Melinda által szerkesztett "Students on the Cold War: New findings and interpretations" c. kötet. Alább a kötet angol nyelvű fülszövege olvasható:
The Cold War History Research Center was established in December 1998, as the first scholarly institution founded as a non-profit organization in East Central Europe. The Center is specialized in historical research in the Cold War era, focusing on the former Soviet Bloc. Since 2009 the Center has been affiliated with the Institute of International Studies at Corvinus University of Budapest, and beginning in 2017, also with the Centre for Social Sciences, at the Hungarian Academy of Sciences.
Since 2010, the Center has uniquely organized an annual twoday English language international student conference on the history of the Cold War, with the participation of BA, MA and PhD students. So far 230 students presented papers from 26 countries, representing 58 universities. This volume publishes the best 30 papers selected from the 144 presentations from 14 countries of the first seven conferences between 2010 and 2016. Our Center proudly presents these excellent research results by motivated students and we hope that this volume will serve as encouragement and will contribute to the emergence of a new generation of Cold War scholars all over the World.